---
TODA News - December 2020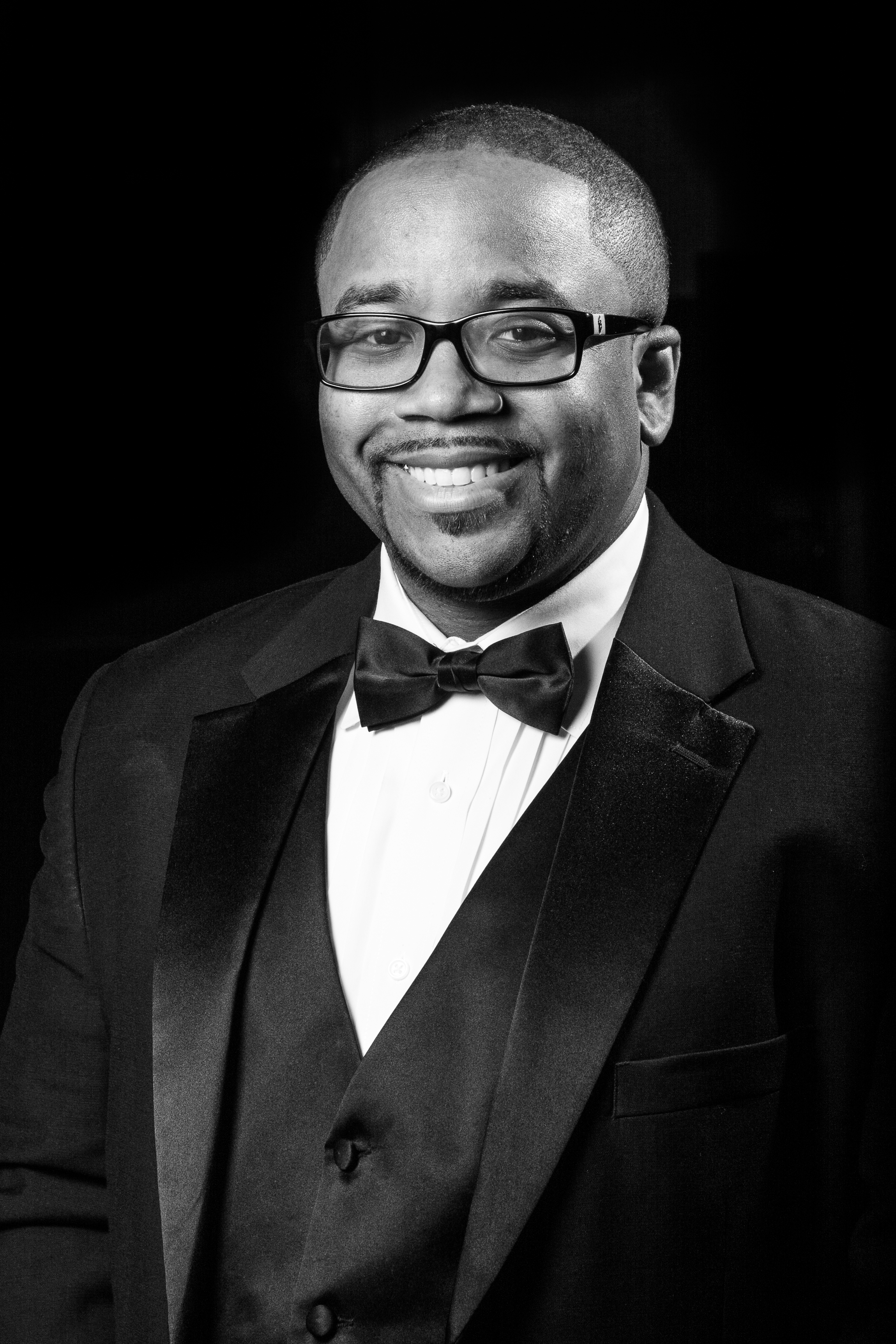 Hello, TODA Friends!
by Creston Herron, VP/Treasurer

We hope everyone takes time during these upcoming holidays to relax and recharge your batteries. By now, you have already started the countdown! This has been such a difficult year for everyone, having to reinvent what music education looks like in the classroom. The TODA board has been working tirelessly to provide our members with opportunities to connect over conversation and inspire each other to continue the impossible. The challenges that we face today are reshaping how we approach connecting with students and advocating for our programs. We want you to know that TODA is here for you. We are pleased to announce that TODA is presenting a Winter Clinic on Saturday, January 16 sponsored by Krutz Strings. This event will provide well-needed strategies to tackle these challenges and finish the year strong. We will be joined by some of the most incredible pedagogues in the nation for a day of inspiration and collaboration. Our keynote speakers will be Maestro Jeff Grogan, Director of Orchestral Studies at Oklahoma City University and Michael Stringer, TMEA Vice President and Assistant Fine Arts Director at Arlington ISD. Our middle school clinicians are Anna Radspinner, orchestra director at Andrew G. Curtin Intermediate (Williamsport, PA) and Margaret Selby, orchestra director at Laing Middle School (Charleston, SC) and our high school clinicians are Jim Palmer, orchestra director at Allatoona High School (Acworth, GA) and Scott Laird, orchestra director at North Carolina School of Science and Mathematics (Durham, NC). We will also be offering an arts advocacy session by Master Luthier Anton Krutz and a live-streamed performance by the Axiom String Quartet. This is certain to be a memorable event that will inspire all that attend! We would also like to announce that our annual silent auction will be virtual this year! We have some fabulous items that have been donated by our incredible sponsors. You will be able to view our auction items on our website, prior to the 60th Annual TODA Summer Convention. All proceeds from the auction will benefit the TODA memorial scholarship program. Over the past few years, we have awarded over $20,000 in scholarships to current and future string music educators. We appreciate your continued support in allowing us to provide this financial assistance to so many individuals! We thank you for your continued support for our organization and profession and we hope you can join us at our upcoming events!
---
Connection and Motivation: Ingredients to Community Building in Multiple Modalities
by Blair Williams, Texas Tech University - Lubbock, TX | Liz Dinwiddie, Ashley Hall - Charleston, SC | Rachel Dirks, Kansas State University - Manhattan, KS | Lindsay Fulcher, University of Northern Colorado - Greeley, CO
Now more than ever, community building in our various teaching and learning modalities is essential to the social-emotional growth of students and continuance of our programs. String teachers in all venues have a need to strengthen community among our students, particularly as we continue to operate in a variety of settings. We want to begin, maintain, and grow the relationships we have traditionally worked so hard to build with our shiny, new beginners up through our experienced, seasoned seniors, no matter our teaching modality.

The Value and Importance of Connection and Motivation
The identity transformation that adolescents achieve through experiences, like shared music, provides them with the strategies to develop healthy concepts of themselves and connections with others (Campbell, Connell, & Beegle, 2007). Additionally, the social climate found in the music classroom is an influential component of relationship and community building (Adderley, Kennedy, & Berz, 2003). This community-building found in the music classroom is intrinsically linked to social-emotional learning (Edgar, 2015). Often defined as "family" or "home," the music classroom is a space where students can forge an identity of self and work in partnership with peers towards common goals, often more challenging than what they might attempt individually (Abril, 2012). Music teachers have a unique opportunity to help students navigate their community through shared music experiences, oftentimes serving as the catalyst for these connections. The Three New R's as outlined by the nonprofit Turnaround for Children (https://turnaroundusa.org/resources-three-rs/)  -- Relationships, Routines, and Resilience -- must continue to be present in our music classrooms, no matter the modality, just as they did pre-pandemic. Having and growing relationships, establishing a routine, and encouraging resilience are all strong reasons our students wish to remain active in our music-making because our environments have provided these provisions.

We also note that teachers, students, and our families are encountering these shifts within nearly all activities -- school, work, private lessons, youth orchestra, church, sports, dance, theatre, other social and service organizations, family --  and so many others! Additionally, we are growing more and more accustomed to preparing for and reacting to those modalities to pivot and shift at any moment for safety and health concerns. Providing consistent opportunities for connection and motivation might be one of the most dependable means of community building for our students and for us as teachers right now.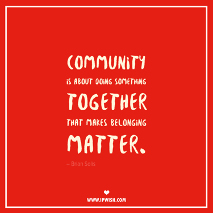 Games & Activities for Building Community
By now, we have all planned activities for our own organizations during the pandemic. We have also loved getting to see activities developed and implemented by our colleagues across the country! We know some say "what would we do without ZOOM/TEAMS/MEETS right now" -- but also, "what would we do without our communities of colleagues, social media groups, and connections across the US for all these creative ideas!"

Below, we have organized some starting-point activities to foster connection and motivation to build community within groups. Activities can be done in multiple modalities, as well.

Modality
 
Musical
Non-Musical
Virtual/Online
Synchronous
●    Watch parties
○     musical TED Talk, YouTube performance, or NPR TinyDesk Concert
○    previous performance with reflection activities
○    inspirational performance
●    Online recitals with pre-recorded accompaniment
●    Group playing sessions - Upbeatmusicapp.com
●    Guest speakers and performers - no travel or housing costs!
●    Porch or park recitals/concerts
●    Composition/arranging projects
●    Music history or theory projects
Create your own instrument with objects in your home - Landfill Harmonic (2015) - then watch the documentary

●    Escape Rooms as a group on videoconference
●    Online Game Nights
○    Among Us
○    Mad Libs
○    Jack Box Games
○    Orchestra Blooper Video scavenger hunt
○    Orchestra video show and tell - have students share their favorite finds and artists
●    Online meals
●    Household scavenger hunts
●    Just Dance YouTube recording breaks
●    Meditation breaks - there are plenty of breathing exercise videos online to share in your call
●    Play People Bingo

 
 Asynchronous
 ●    Virtual Field Trip links
○    Small groups/ breakouts
○    Virtual Tour of the Musical Instrument Museum
○    Virtual tour of composers' home cities
○    Local Music Store/Luthier
●    Group playing sessions - have students record various parts together - Use apps like Acapella.
●    Older students create mini recruitment videos for younger students - have them share why they love orchestra and the orchestra community
Students write and record (audio/video) PSA for music education or specifically string music education.
 ●    Student video submissions
○    "This is me"
○    20 questions using silly questions students need to answer for example: "Is a hot dog a sandwich?"
○    Virtual background or album cover creation contest
○    Assign online quizzes or games: Classic FM and others
Have a GIF battle
 Face-To-Face
 
 ●    Parking lot movie/concert nights
●    Guest speakers, coaches, and performers - if they are "zooming" in, there might be less expenses involved.
●    Porch or park recitals
Reach out to local organizations, nursing homes, and local television/radio stations about opportunities to send them a pre-recorded performance to show residents
 

Send each other letters/postcards - older students sending letters to younger students as part of a larger recruitment effort

Just Dance YouTube recording breaks
Multi-setting Activities
 
●    Flipgrid recorded performances, how to record with pre-recorded accompaniments
●    Short technique teaching videos (older students create for younger students)
●    Practice-a-thon! Collect sponsorships, if possible
●    Explore musics of varying cultures, nations, and faiths.
Have students teach other students! What an excellent time for peer-mentoring! Connect with your feeders or other programs!
 ●    Send each other letters/postcards - older students sending letters to younger students as part of a larger recruitment effort
●    Givethx.org
●    Music Buddy Name Drawings
●    Kudoboard.com
●    Send notes of gratitude to music organizations in the community
●    Service in the Community
○    Donate blood
○    Deliver meals
○    Pick up trash
○    Sponsor a "Fun Run" or Nature Hike
○    Could challenge another organization on your campus -- or collaborate with them!
●    Orchestra Tutoring - on any school subject! Advertise to the school.
●    Reading Partners
●    Geocaching
●    The Kindness Rocks Project™
Letters Against Isolation

And remember all those incredible service and social events that have become a tradition in your program as well! Work with students to find a way to make those happen -- with a twist!

Reflect On and Cherish Your Unique Program And Community
For some programs, doing less has been more impactful or appreciated by students and families during this time. For others, they have been craving additional ways to engage than previously before. We are by no means suggesting that you go out and try to implement as many of these suggestions as possible. Please consider your unique community and choose one or two activities that would best fit your program. We are also not looking to encourage you to add more to your already heavy and time-intensive workload.

Where possible, encourage students or parents to plan and organize. Maybe embolden students and parents that do not currently serve in student leadership or parent booster groups -- there are many hidden strengths and additional connections amongst your crew! Maybe one suggestion above outweighs three others -- implement THAT one! Provide options for individual students, small groups, or larger groups to select from and do in conjunction with the program. In each way, students and families are contributing to the larger community and becoming more connected and motivated toward the overarching goals of the program.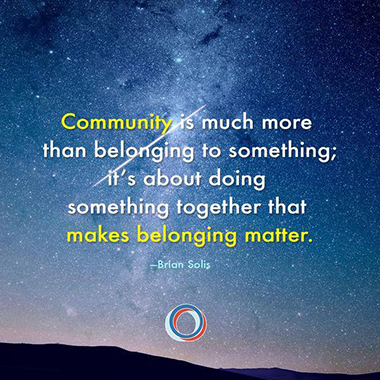 Briansolis.com


References                                   
Abril, C. (2012). Perspectives on the school band from hardcore American band kids. In P. S. Campbell, & T. Wiggins (Eds.), The Oxford Handbook of Children's Musical Cultures (pp. 434-448). New York: Oxford University Press.

Adderly, C., Kennedy, M., Berz, W. (2003). "A home away from home": The world of the high school music classroom. Journal of Research in Music Education, 51(3), 190-205.

Campbell, P. S., Connell, C, & Beegle, A (2007). Adolescents' Expressed Meanings of Music in and out of School. Journal of Research in Music Education, 55(3), 220-36.

Edgar, S. (2015). Preparing high school instrumental music educators to respond to the social and emotional challenges of students. Journal of Music Teacher Education, 24(3), 67-82.

Turnaround for Children. (2020). Resources for The New Three Rs: Relationships, Routines, and Resilience. Turnaround for Children. Retrieved from https://turnaroundusa.org/resources-three-rs/.
---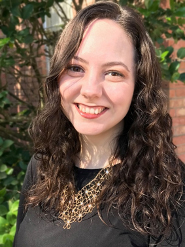 The Gift of Student Teaching
by Azayra Ouzounian, Baylor University and Proud Future Orchestra Director

"My degree didn't prepare me for this!" my colleagues and I often liked to exclaim. Whether paying taxes, recording a music video in the freezing cold at midnight, or cooking an edible dinner using whatever we could find in the back of the fridge, it was a little phrase that always made us laugh. Our degrees could only prepare us for so much of the "real world." However, this last semester proved that phrase more true than I ever expected. Although the topic of "student teaching in a pandemic" was not a chapter in my textbook, and I did not feel in any way prepared for what was required, this was still the experience I truly needed. 
I started the school year as unsure of myself as every other teacher. We had a mountain of questions, and every answer we got only started another avalanche of questions. An atmosphere of uneasiness hung around everything we planned. Although originally I was student teaching at the high school only, I soon began teaching at two different schools every day: half the day at the high school followed by half the day at the nearby intermediate school. This semester was not going the way I had anticipated (even in a pandemic) and I was feeling overwhelmed by my many responsibilities. Yet I still had grand dreams of what I wanted to accomplish: be an effective teacher, be a positive influence, bring a passion for music and learning into every lesson, and help change the lives of my students in some small way. 
Near the beginning of the semester, I learned an unexpected lesson. One morning as the freshmen orchestra students piled into the room, a cellist approached me. He had forgotten his music and asked if there were any extra copies. As I quickly directed him to the music, my mentor teacher stepped in to talk to the student.
"John, are you okay? Has it been a rough day?"
John caught his breath and quietly replied, "Yeah, I'm just really upset right now."
As he spoke, I noticed his eyes watering and how his voice wavered. The orchestra director kindly told him that if he needed to step out for a bit or talk, to just let him know. That was all John needed. 
I felt taken aback. One of my students only needed to know that someone cared, and I was too consumed with my own thoughts about what bowings I was going to teach to notice. I had wanted to be the teacher students knew they could turn to, but I realized I was too worried about myself and my own so-called problems. After this experience, I made a commitment to be more aware of the children in my classroom and what was happening to them outside of these walls. 
It was in these moments of observing the educators around me, as they turned their focus outward on their students and each other, that I learned the most valuable lesson of the year. I may not have had the type of semester I expected, and there are many things I still don't know, but for me, I learned exactly what I needed most. As long as I can remember to forget about myself for a moment in order to concentrate on others around me, I can become the educator and person I've always aspired to be.
---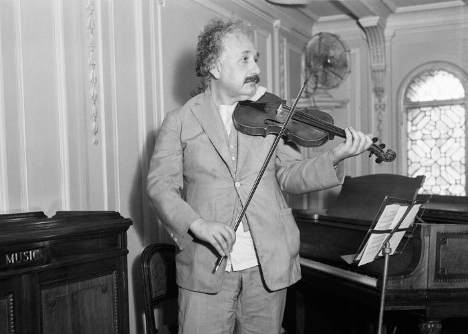 "The theory of relativity occurred to me by intuition, and music is the driving force behind this intuition. My parents had me study the violin from the time I was six. My new discovery is the result of musical perception. … I see my life in terms of music." —Albert Einstein


Einstein considered playing an acoustic instrument not just an important hobby, but perceived it as vital to how he approached life. He used this perception to intuitively develop a process that leveraged his ability of playing an instrument into a cognitive tool for his work. Einstein did this by playing the violin or piano if he was stuck on a physics problem. Then afterward he would go back to working on physics. This process was not done for rest and relaxation, but to stimulate his creativity.

Instead of striving to continually increase academic knowledge, Einstein discovered that this process of playing an instrument was the most direct path to access his imagination. That's why he said: "The true sign of intelligence is not knowledge but imagination." At that time, Einstein's heavy reliance on playing an instrument was not understood. But now his process can be explained because it's becoming recognized that the strongest way to stimulate creativity is through art and music. Both are connected because they are the exact same vehicle but in a different form; art is frozen music and music is liquid art. Within this vehicle, the use of physical motor skills alongside a cognitive purpose results in a tangible self-reinforcing creativity loop. That's why creative acts of expressing art and music can continually stimulate more creativity. But the increased physical and cognitive engagement correlating to playing an acoustic instrument makes it more powerful than art. (Click here for more in-depth information on how much Einstein used and was impacted by playing an instrument.)

More importantly, playing an acoustic instrument stimulates creativity the strongest because that action is what induces the strongest emotion. The component of emotion is essential because it's the foundational driver behind all creativity. So the more emotion that is induced, the more potential there is to stimulate creativity.
There are two aspects involved—the physical and the metaphysical—regarding the relationship between acoustic instruments and emotion. The first aspect deals with the physical vibrations of an instrument being able to interact with the quantum vibrations of matter. This is due to the smallest element at the quantum core of all matter being a Planck length frequency vibration, of which liquid matter specifically has the greatest vibrational elasticity. As a result, the unique complexity and diversity-depth of the physical vibrations produced by acoustic instruments are able to energize and amplify the quantum vibrations of biological and botanical bodies (i.e. life). This is because those specific bodies are mainly comprised of liquid. Furthermore, those bodies are also affected to different degrees by different instruments, which produce different complexities of vibrations. Brass instruments produce more complex vibrations than percussion. Woodwinds produce more complex vibrations than brass. Bowed string instruments produce more complex vibrations than woodwinds. The reason the highest complexity vibrations are produced by string instruments is because of the bow movement along the strings and the unique physical construction of the instrument itself, which was originally designed through golden division geometry centuries ago. The totality of these factors produces vibrations from string instruments that resonate in consonance with quantum vibrations.

This brings us to the metaphysical second aspect of emotion. Emotion is induced within the body when the vibrations of acoustic instruments energize and amplify quantum vibrations. To understand this aspect, we need to examine emotion through a new breakthrough paradigm.
Emotion:
Is a completely separate component from life that exists outside life while interacting with it.
Drives nearly every action of life and is the main framework through which life communicates.
Empowers the mind with the capability, speed, agility, and perception that the mind can never even come close to duplicating by itself.
Guides the mind to aggregate and connect old information in new ways to create new information, which is the process of creativity and innovation.
Acts as a beacon, with stronger levels of emotion signaling greater, threats, opportunities, and amounts of new information created and understood.
While neuroscience is correct in observing that emotion can be induced by neurochemicals, in most instances emotion is being induced by cognitive and physical interactions between biological bodies. After emotion is induced, it then uses the concurrently produced neurochemicals as a carrier to stay in the body. That's why an interaction-induced emotion continues to stay in your body, connected to neurochemicals, long after the interaction is over. The stronger an emotion that is induced, the heavier the dose of neurochemicals produced, the longer your body is intoxicated with them and the more difficult it is to break free of that emotion.

Emotion can also be induced by vibrations. The vibration-induced emotion is elastic and temporary. That's why even a short segment of acoustic music can take you on a rollercoaster of radically different intense emotion and then leave you in a neutral state after the music ends. Depending on the characteristic of the vibrations, our minds can discern the type of emotion-induced. The fast/high vibrations induce a wide spectrum of positive love-based emotion. The slow/low vibrations induce a wide spectrum of negative fear-based emotion. Neuroscience has observed this effect but does not yet understand the model behind it. That's why the current neuroscience model of the brain/mind dynamic is outdated. Within their model the intense emotion that people experience of hope to despair, passion to aversion, joy to sorrow, compassion to rage, and every emotion in between, is only a chemical by-product of a neurobiological function. This outdated model is no longer adequate or valid. (Click here for more in-depth information on an advanced model of the brain/mind dynamic.)

The main takeaway is that emotion is not an incidental by-product. Emotion is an independent component that has a purposeful role within life. In turn, the sporadic condition of life exists because there is a structured cosmos to accommodate it. Essentially, our cosmos is designed so that emotion can interact with itself through life. (Every religion has its own version of the 'Holy Ghost'. It's just explained here through a science-based paradigm). At its core, the interaction of emotion has the effect of being a health and survival mechanism. But at the highest level of sentient life, emotion becomes the foundational driver for creativity and innovation. That's why successful creative people always have a lot of emotion for the work they do and why Steve Jobs said, "You have to have a lot of passion for what you are doing because it is so hard."

Yet having emotion when you need it is not controllable because it comes and goes. Even when you have emotion, if it's working through neurochemicals then it is controlling you. The reality is that either you are using your emotion or emotion is using you. That's why the controllable action of playing on an instrument to induce emotion can be the process that empowers you to use your emotion as a tool for creativity. Within this process, the elasticity of vibration-induced emotion can then be channeled into anything the mind chooses to focus on.

Even listening to a large group of acoustic instruments, in the form of symphonic music, can induce strong emotion. (This was at one point even labeled as the "Mozart effect.") Think about it: Hollywood and the gaming industry specifically choose to extensively use symphonic music in their movies and games to impact the viewer. They know that it's the symphonic music that induces emotion, which then imbues the images with feeling and the verbal dialogue with context. If, as a viewer, you were to turn off the symphonic music, the images and dialogue within movies and games would come across as cold and incomplete. This is because you would lack the emotional experience that is otherwise induced by the music. Yet few people realize how much they are actually engaging with symphonic music or the creative impact that sound is having on them and modern society. (Click here for more in-depth information on the breakthrough paradigm on how emotion is the origin of intelligence and why that impacts society.)

However, just listening to symphonic music will not be enough to stimulate the level of creativity required in the future. Everyone that strives for professional and personal success will need to start playing acoustic instruments. This is because soon the era of human labor will be ending and the era of human creativity will begin. In this new era, a consensus will begin to develop about how humanity's unique potential for creativity will be the only advantage over technology, no matter how powerful technology becomes. At that point, the hard skills learned through standard education will become useless without people also having the ability to stimulate creativity. That means, for people to be relevant in the future, they will have to bring something new and creative to their work and learning every single day. Within this type of thinking there will be nearly unlimited potential for self-growth, which has been labeled by psychology as a "growth mindset." The people that have creativity will be able to use all advancing technology for their benefit and the people that don't have creativity will be made obsolete by that same technology. (Click here for more in-depth information on the future requirement for creativity.)

Einstein understood 100 years ago that playing an instrument was required to stimulate creativity. In the future, this simple process will be recognized for its potential impact. Consequently, everyone will understand that playing an instrument will be a required cognitive workout in order to be successful in business and science—just like it is currently understood that lifting weights is a required physical workout in order to be successful in sports and athletics. (Click here for more information on advocacy for music programs in education.)

Anton Krutz, luthier and founder of KRUTZ Strings, was born in Leningrad, Russia, into a family rich in musical history.  READ MORE ABOUT ANTON
---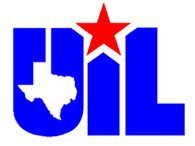 These UIL PML Committees will be established for the specific purpose of updating solo & small ensemble literature. If you are interested in providing literature selections for any of these categories, please reach out directly to any of the committee members listed below.
These members will accept outside input until March 1 of the implementation year by contacting them directly.
1.    Piano Trio (430) Erin Tovar, Director, McAllen HS - [email protected]
2.    Violin Trio (431) Dawn Herron, Director, Kleb Intermediate, Klein ISD - [email protected]
3.    String Trio (432) Kathy Patterson, Director, Shackelford JH, Arlington ISD - [email protected]
4.    Miscellaneous String Trio (433) Mike Wells, Consultant - [email protected]
5.    Guitar Trio (434); Guitar Quartet (444) Dr. David Asbury, Southwestern University - [email protected]
6.    Violin Quartet (441) Bryanna Porter, Director, Tays Intermediate, Katy ISD - [email protected]
7.    String Quartet (442) Jeff Harvick, Director, McKinney HS - [email protected]
8.    Miscellaneous String Quartet (443) Beau Garza, Director, Midland Lee HS - [email protected]
9.    String Quintet (450) Jimmy Edwards, Consultant - [email protected]
10.  Miscellaneous String Quintets (451) Andy Moritz, freelance teacher, Houston - [email protected]
11.  Miscellaneous String Ensembles (460) Gene Williams, Retired Teacher/Composer - [email protected]
12.  Cello Choir (470) Ida Steadman, Retired, St. Clements School, El Paso - [email protected]